Slate Roof Cleaning
Benefits Of Treating Slate Tiles
Slate tiles are a beautiful tile and have a grand look about them, but they can be difficult to source if older and can be difficult to walk on. Moss Roof Treatment can in some instances be the only option for cleaning these difficult roof tiles.
By moss roof treating the slate tiles to keep the moss away and take the weight off the front edges, which can cause slipped tiles or lift the tiles which can cause issues with water getting in, can help prolong the look and life of the tiles.
Slate Tile Issues
Slate tiles can be very difficult to maintain and also to source for replacement tiles. A specialist Slate roof Tiler is also necessary to carry out any repairs, so by maintaining the roof by way of keeping the moss off will help avoid costly repairs and prevent future regrowth. Some slate tile designs are also very intricate and not ideal for walking on, so this is the best option for a clean roof.
Soft Application & Prevents Regrowth
Moss Roof Treatment is perfect for slate tiles due to its soft application that kills the moss spores and lichen that grows on the tiles. Slate tiles can be hard to source if they get broken, so if you are wanting a clean roof this is a great option as we apply the treatment without walking on the roof.
Moss Treatment Works Alongside Other Roof Works
Before any roof repairs, we recommend having the roof treated, this will kill the moss and make the safer to walk on. It also ensures that moss growth on the roof will not spread to any additions that may be added to the roof.
With any roof work it is important to make sure it is sound before allowing tradesmen to walk on it, slate tiles can be tricky. Once treated it will be grippier to walk on.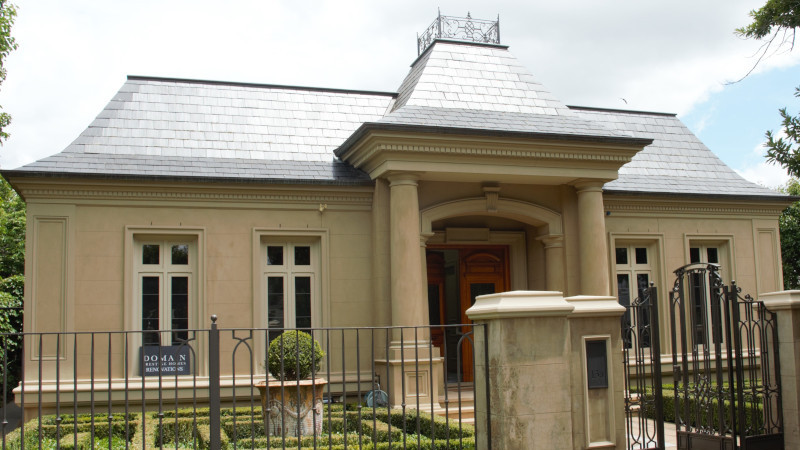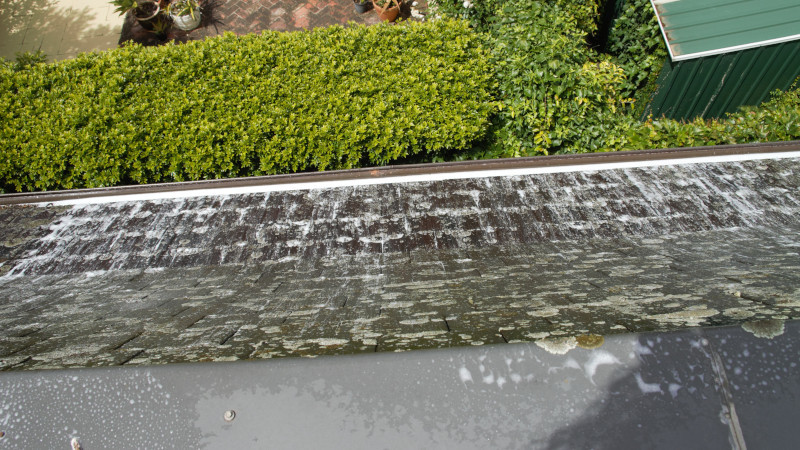 Benefits of Moss Treating Slate Tiles
A soft application on the surface which avoids causing damage.
Kills moss spores left by the moss to prevent new green regrowth.
Gets into the grooves and uneven surface of the tiles.
Will not damage any capping or clips on the roof, as its non-corrosive.
Once cleans tiles we be clean of moss for many years this will prevent yearly repairs to tiles.
Guaranteed for 3 years that no new growth will occur, most treatments generally last for 9-10 years before new growth can occur.
More affordable, good option if selling in the future.
Safer option as tradesperson does not need to walk on the roof.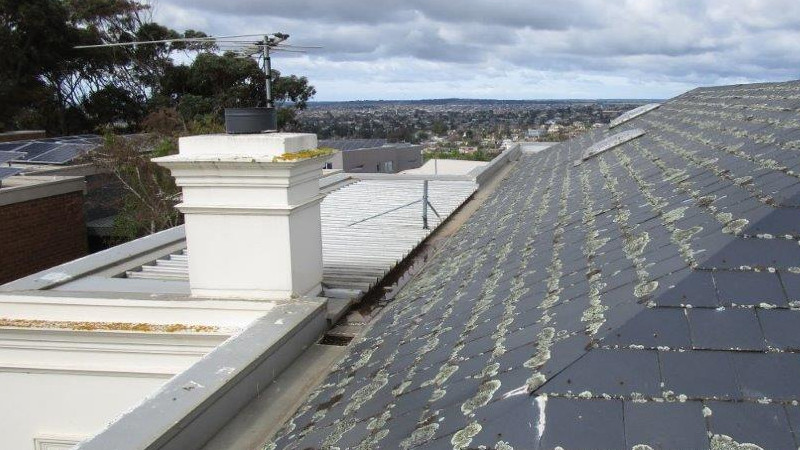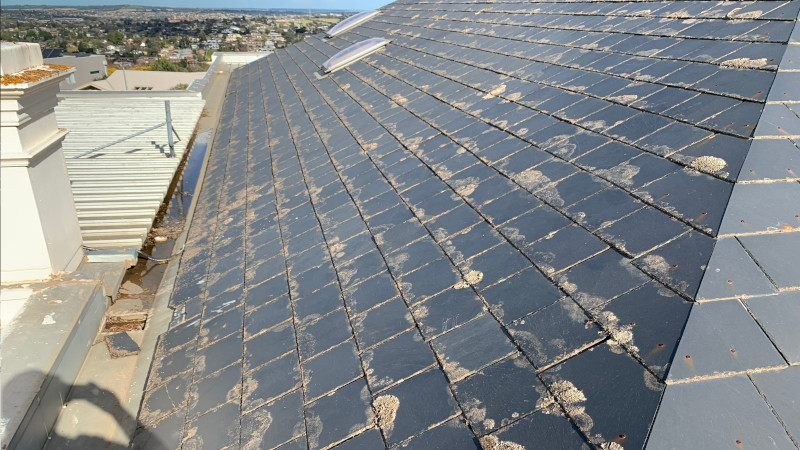 Progressive Results After Moss Roof Treatment
What happens to moss after being moss treated:
Within the first 2-3 weeks the moss, mould & lichen changes to a yellow/brown colour signifying that it is dying/dead.
Slowly, more and more moss & lichen will begin to break down, wash away and reveal a cleaner surface.
It will further break down the black stains left behind by the moss growth.
Once the moss is dead on the slate tiles other repairs can proceed. The treatment will continue to break down the moss during and after any additional roof works.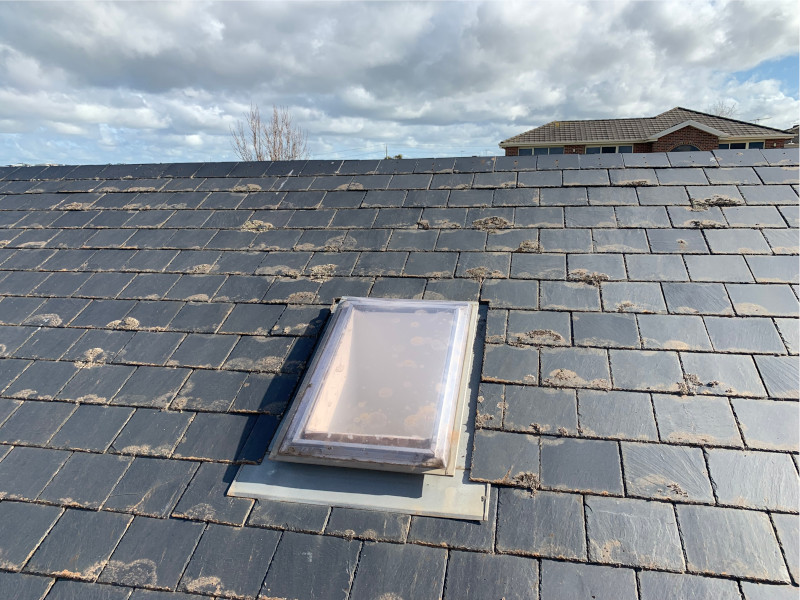 Dying moss & spores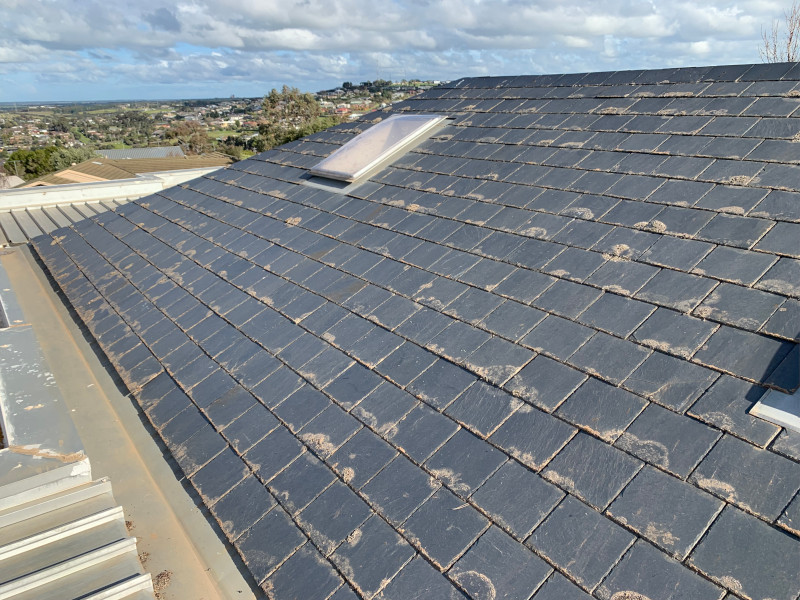 Moss flaking & breaking down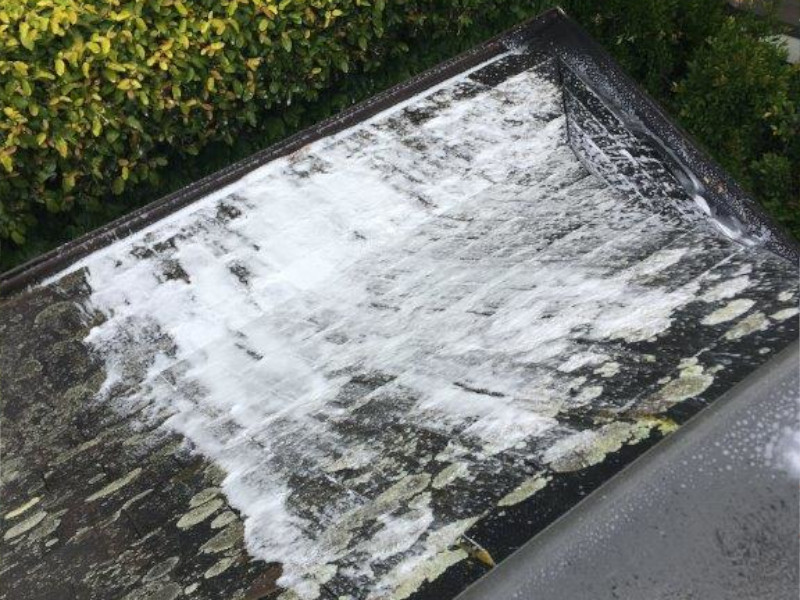 Black stain will be disappearing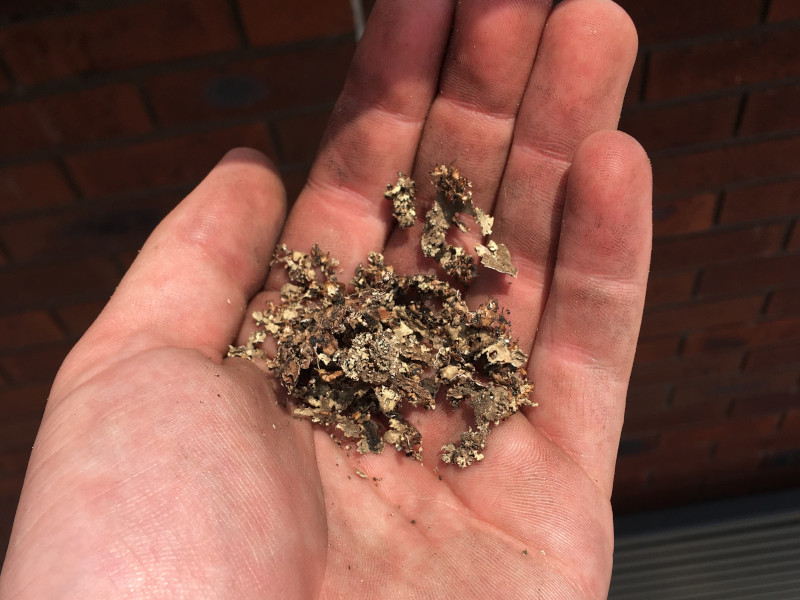 Moss crumbing away
Slate Moss Roof Treatment Application
Moss Removal Before & After Results
Before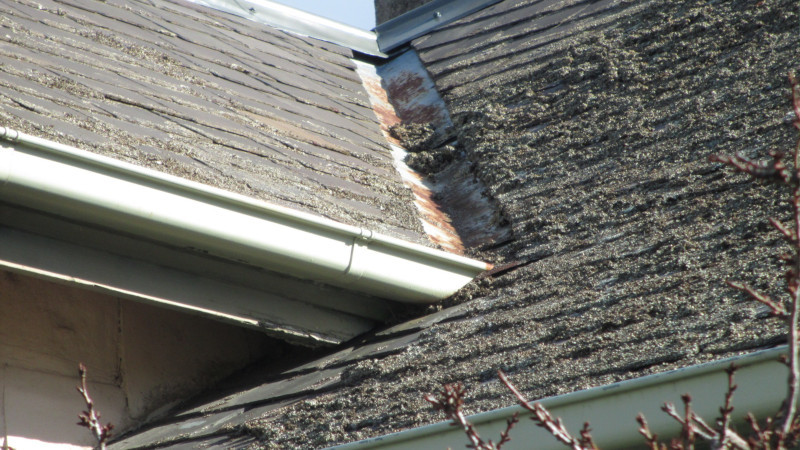 Application Completed 11-08-2017
After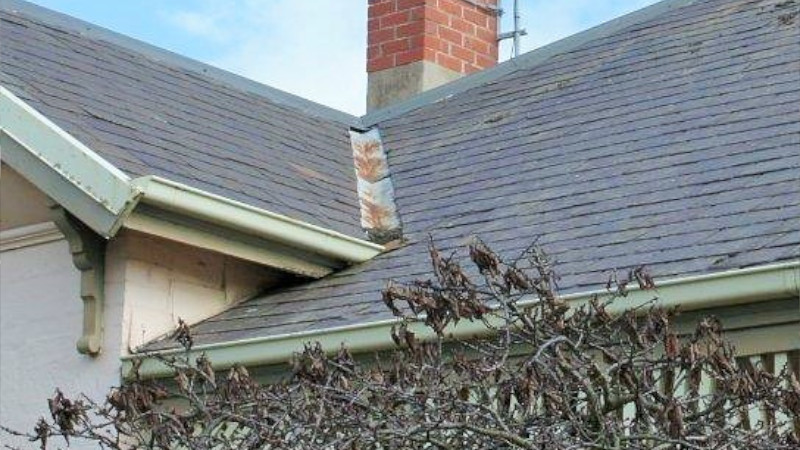 12 Months Later
Before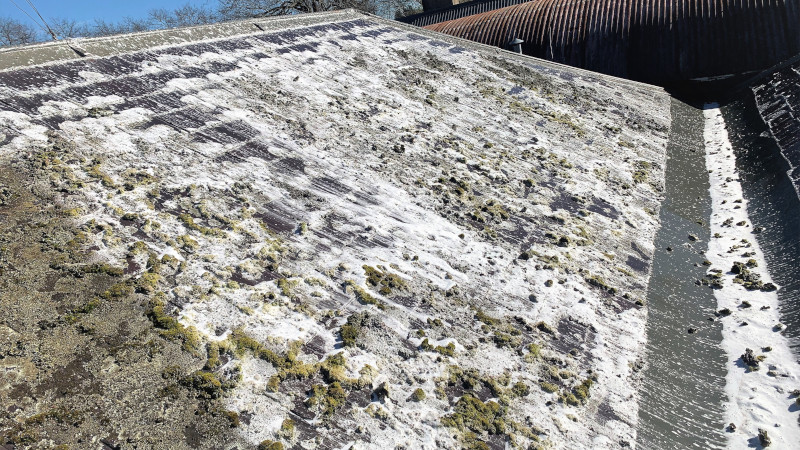 Application Completed 21-09-2018
After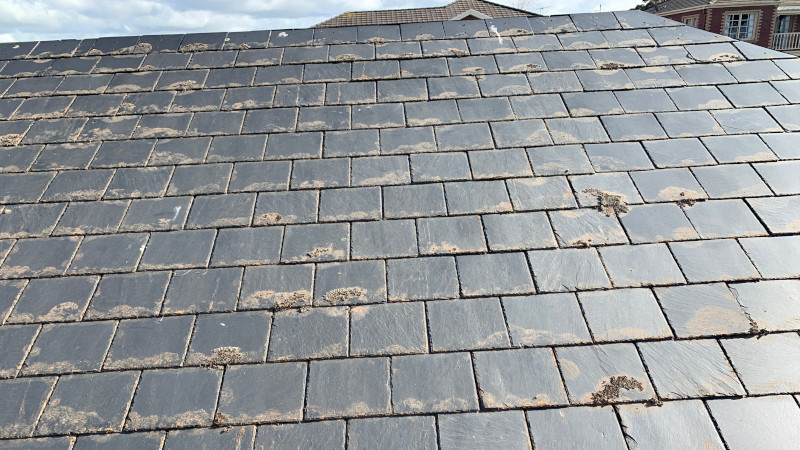 12 months later
Roof Repairs After Moss Treatment
Once moss treatment is completed, roof repairs can now be started, these include:
Installation of solar panels.
Emergency leaking roof repairs.
Replacement of gutters and downpipes.
Cleaning and painting of other surfaces.
Flashing repairs around chimney.
Installation/repairs of skylights.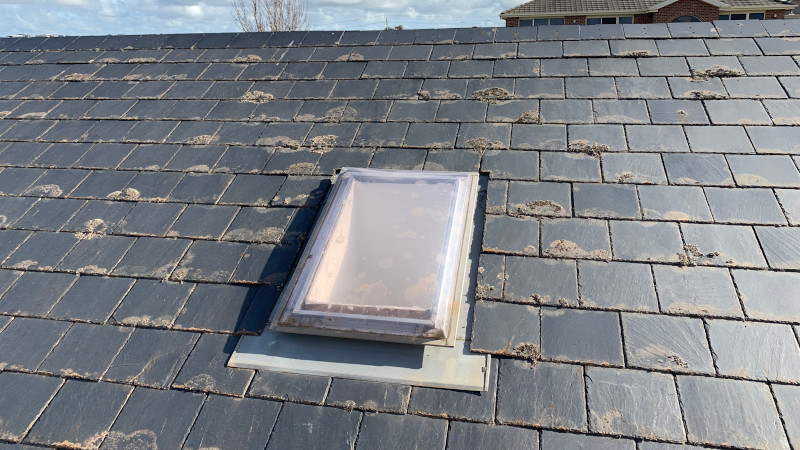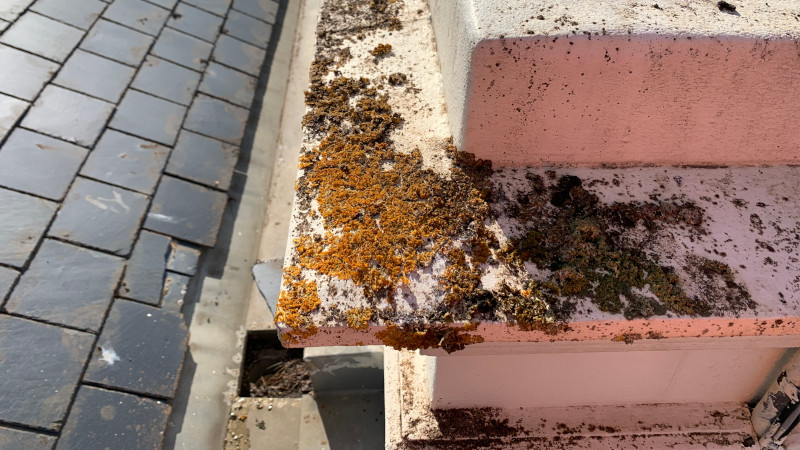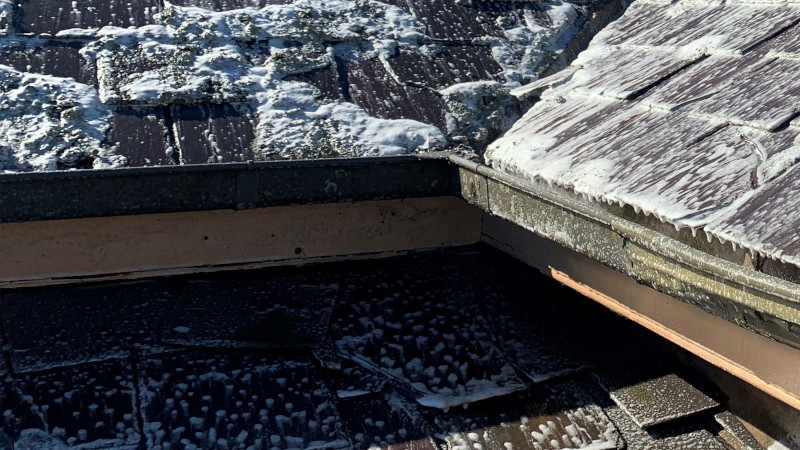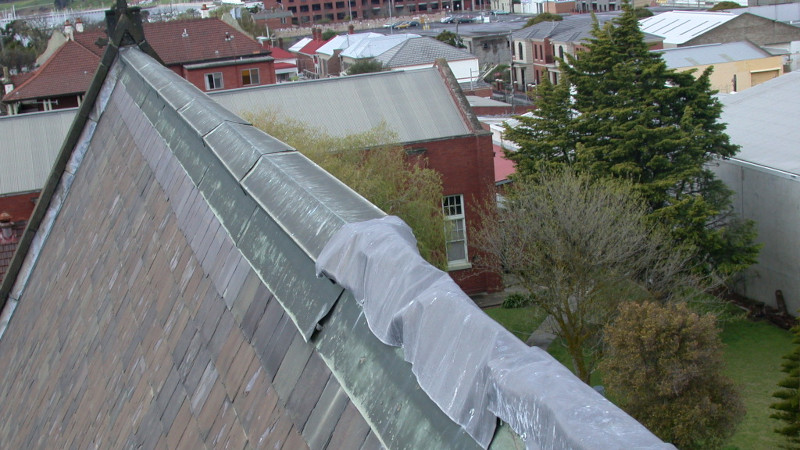 ---
Moss Roof Treatment is for those who just want to keep their roof clean!
---