How To Keep Your Cement Tiles Cleaner For Longer
Benefits Of Treating Cement Tiles
Cement tiled roofs can be kept clean without the use of pressure cleaning. Applying Moss Roof Treatment will kill any moss, mould and lichen and prevent it from getting worse. It will then wash away overtime, avoiding costly repairs that pressure cleaning can cause. It is an ideal way to maintain the roof after other roofing repairs have taken place without having to fully restore the roof.
Cement Tile Issues
Cement tiles come in many shapes and sizes and various levels of good tiles regarding the strength. High pressure cleaning can be harsh on the surface and strip away any tile colour and disturb pointing. Moss roof treatment is a softer application applied under medium spray pressure; this avoids disturbing the integrity of the tiles surface. There are several roof tiles that are thinner and are not ideal for walking on, so this is an option as we apply from ladders around the perimeter of the roof line. Clumpy moss growth on pointing can cause cracks to open and allow water into the roof opening which may lead to leaks. By treating the roof, you will avoid this and ultimately costly repairs.
Soft Application & Prevents Regrowth
Moss Roof Treatment is perfect for older cement tiles due to its soft application that kills the moss spores and black mould that grows on the tiles surface. Some roofing tiles have rough front edges that allows dirt to stick to causing dampness and that is where moss growth can occur, our Moss Roof Treatment gets onto all the front surface, tile overlaps and tile humps to kill these spores to prevent future growth.
Moss Treatment Works Alongside Other Roofing Repairs
Before getting the solar panels installed, we recommend having the cement roof tiles treated, this will kill the moss and make the tiles safer to walk on. It also ensures that moss growth on the roof will not spread to the frames and the panels.
After having roofing repairs to the pointing or valley work, a moss treatment is an ideal way to kill the moss, lichen and black mould to prevent having to do repairs again.
A clean roof helps to make sure that the water is diverted/running down the roof into the gutters and not into the roof cavity.
Building an extension on the home can be costly and sometimes the roof is overlooked and left last, by treating the roof at the start of the home renovations will ensure that the roof will be clean and look tidy at the end of the renovations.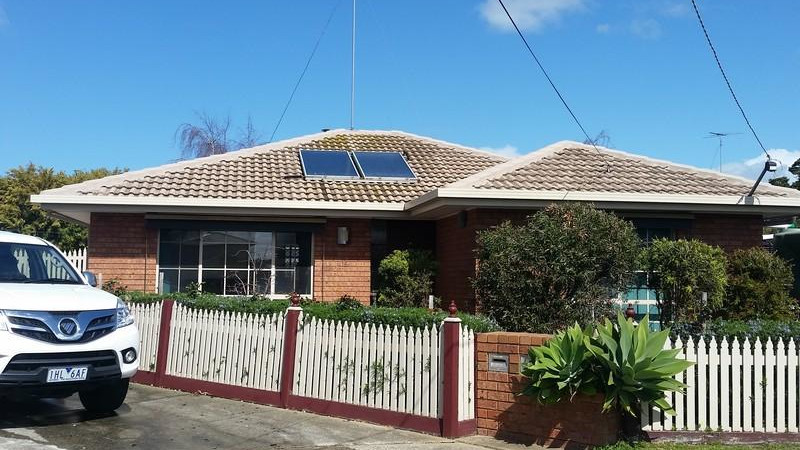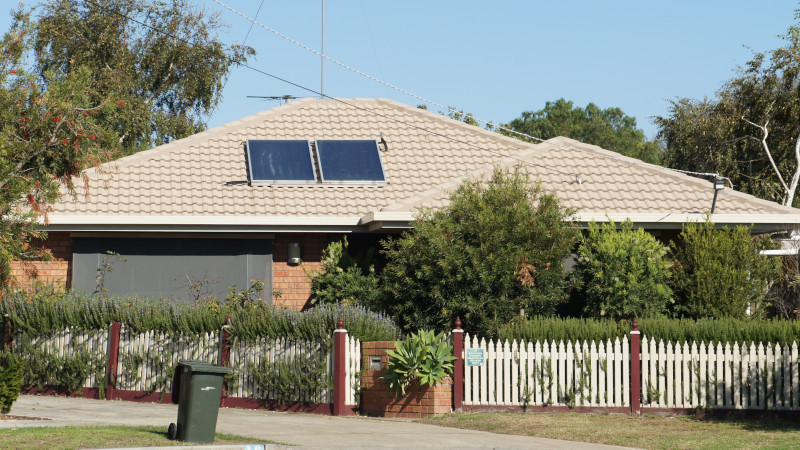 Benefits of Moss Treating Cement Tiles
A soft application on the surface which avoids causing damage to the tiles surface.
Does not fade the colour left in the cement tiles surface.
Will not disturb the pointing on ridge caps.
Kills moss spores left by the moss to prevent new green regrowth.
Ideal for softer tiles, as the treatment is applied by ladders around the perimeter.
Water based solution gentle on the roof tiles and house gutters.
Solar Panels or roofing repairs can be installed and carried out after moss treatment.
Avoids water damage to ceilings as no harsh high pressure cleaning is needed.
Guaranteed for 3 years that no new growth will occur, most treatments generally last for 9-10 years before new growth can occur.
More affordable, good option if selling in the future.
Safer option as tradesperson does not need to walk on the roof.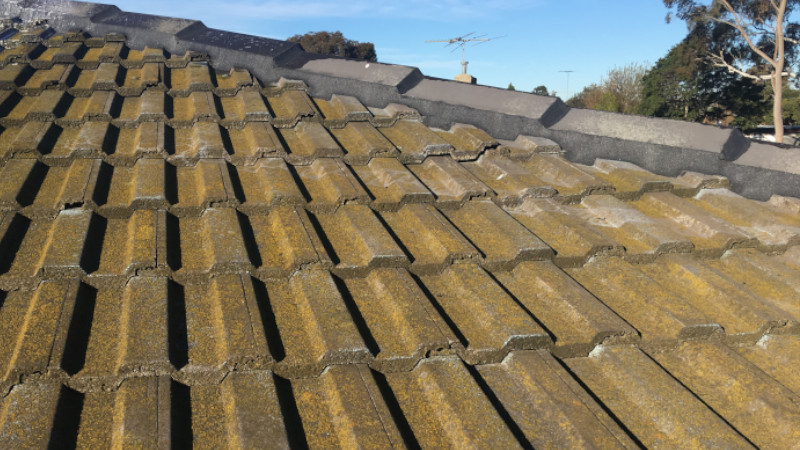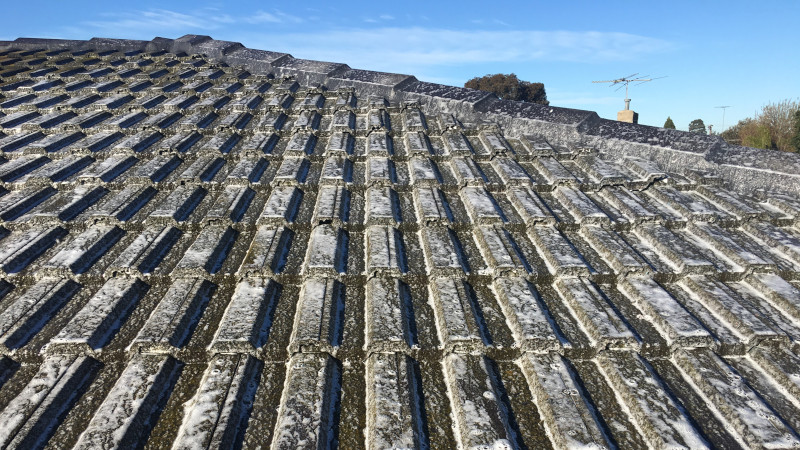 Progressive Results After Moss Roof Treatment
What happens to moss after being moss treated:
Within the first 2-3 weeks the moss, mould & lichen changes to a yellow/brown colour signifying that it is dying/dead.
Slowly, more and more moss & lichen will begin to break down, wash away and reveal a cleaner surface. It crumbles away and washes away into the gutters.
It will break down the black staining on the tiles to show the tile colour.
Once the moss is dead on the roof other repairs can proceed. The treatment will continue to break down the moss during and after any additional roof works.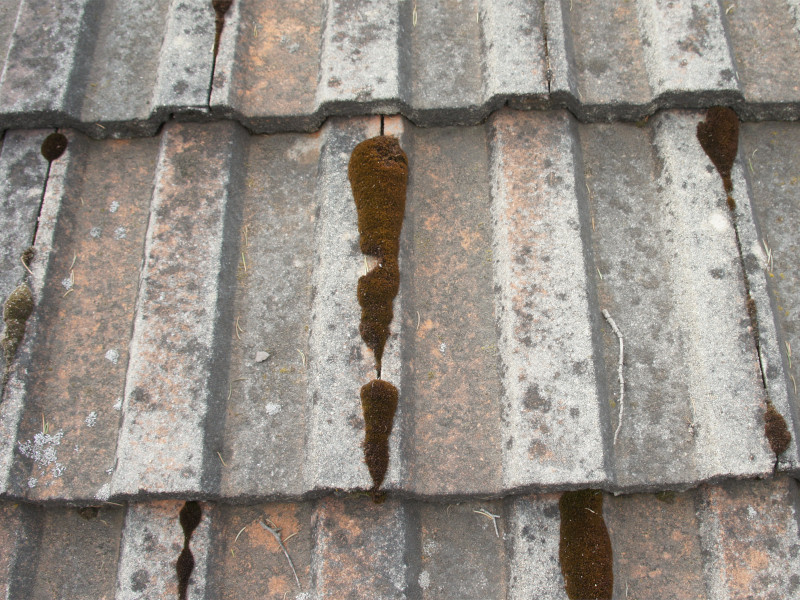 Dying moss & spores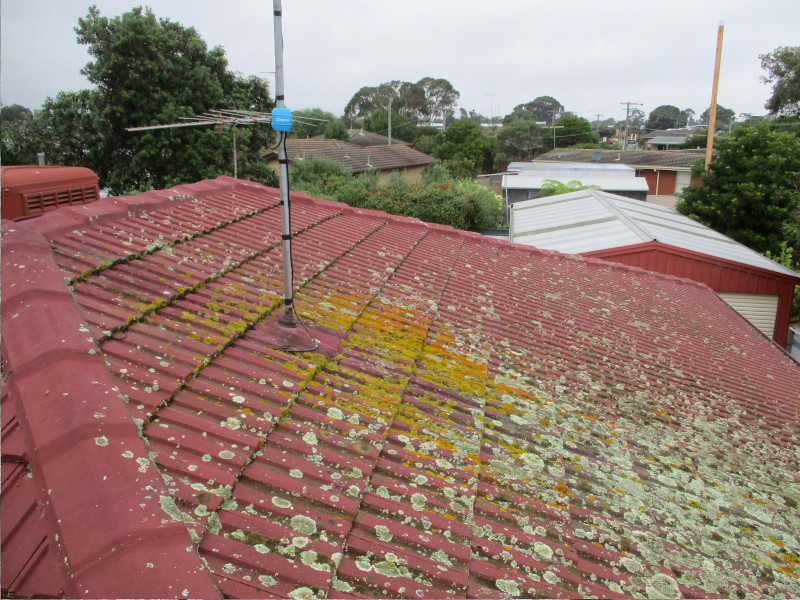 Moss flaking & breaking down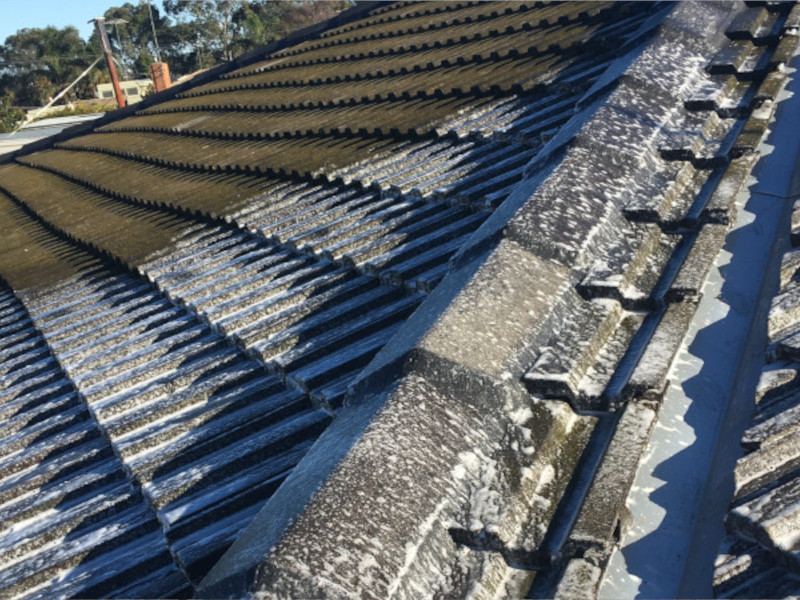 Black stain will be disappearing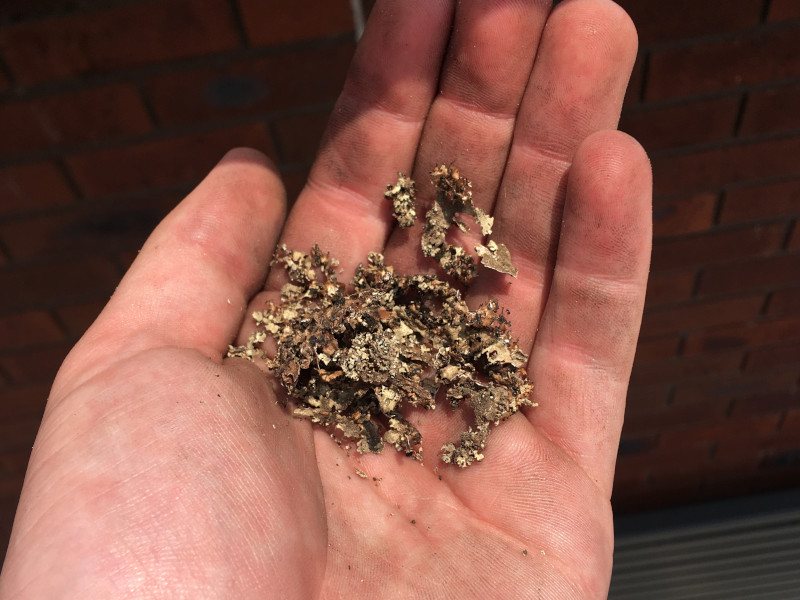 Moss crumbing away
Cement Tile Moss Roof Treatment Application
Moss Removal Before & After Results
Before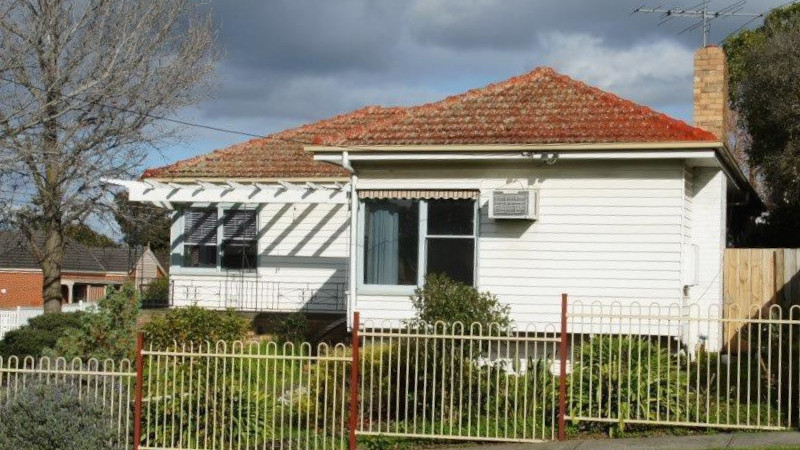 Application Completed 11-08-2017
After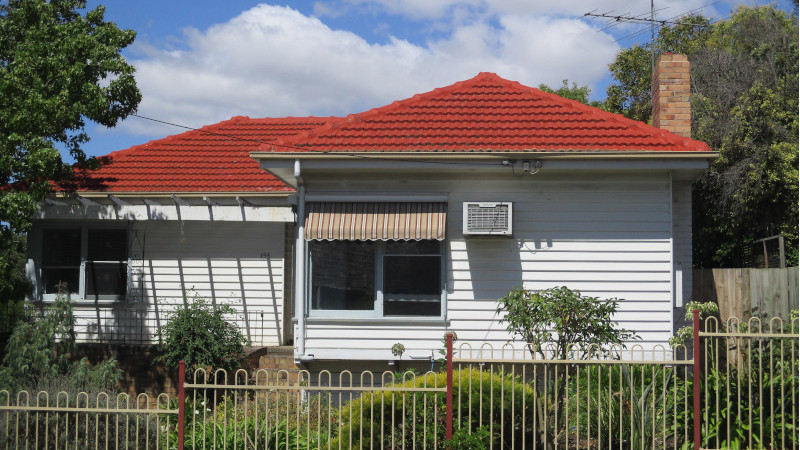 12 Months Later
Before
Application Completed 21-09-2018
After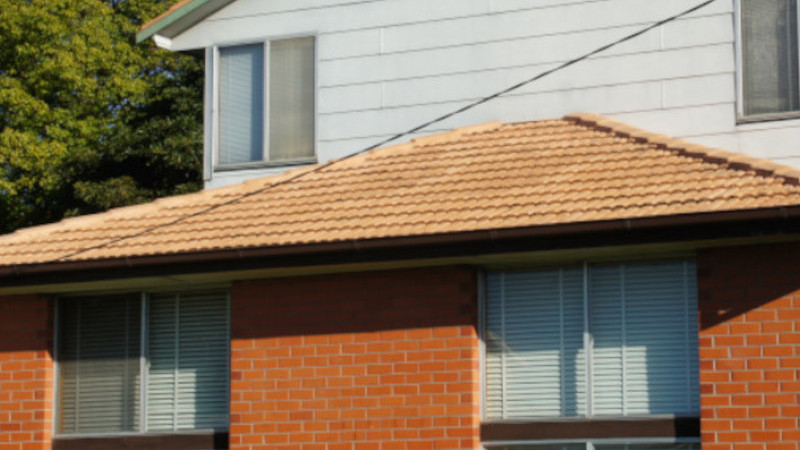 12 months later
Roof Repairs After Moss Treatment
Once moss treatment is completed, roof repairs can now be started, these include:
Plumbing Works to chimney flashings etc.
Replacement of broken tiles.
Emergency leaking roof repairs.
Replacement of gutters and downpipes.
Solar Panel Installation and Repair.
Roof additions installed.
Flashing repairs around chimney.
Installation of skylights.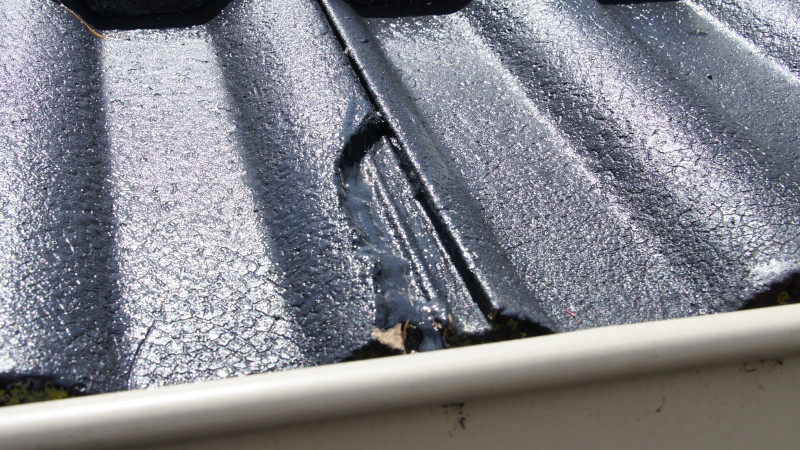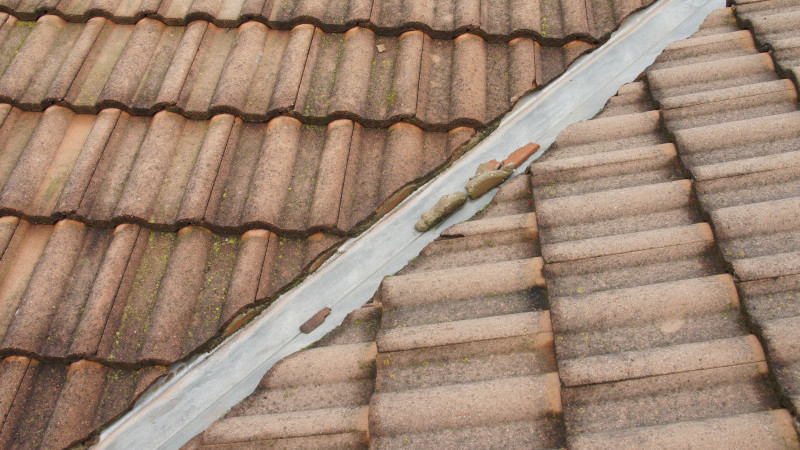 ---
Moss Roof Treatment is for those who just want to keep their roof clean!
---